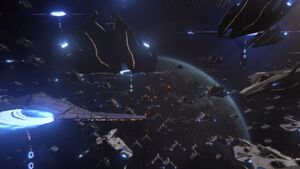 Navies are collections of spacecrafts capable of combat, reconnaissance, construction, and a variety of other tasks that take place on an interstellar level. Some navies only contain spacecrafts, while others like the UN Navy include their Marines and related programs as well.
For a species capable of Faster than Light travel, a navy often no longer involves aquatic warfare.
Ad blocker interference detected!
Wikia is a free-to-use site that makes money from advertising. We have a modified experience for viewers using ad blockers

Wikia is not accessible if you've made further modifications. Remove the custom ad blocker rule(s) and the page will load as expected.